New 2023 McLaren GT for Sale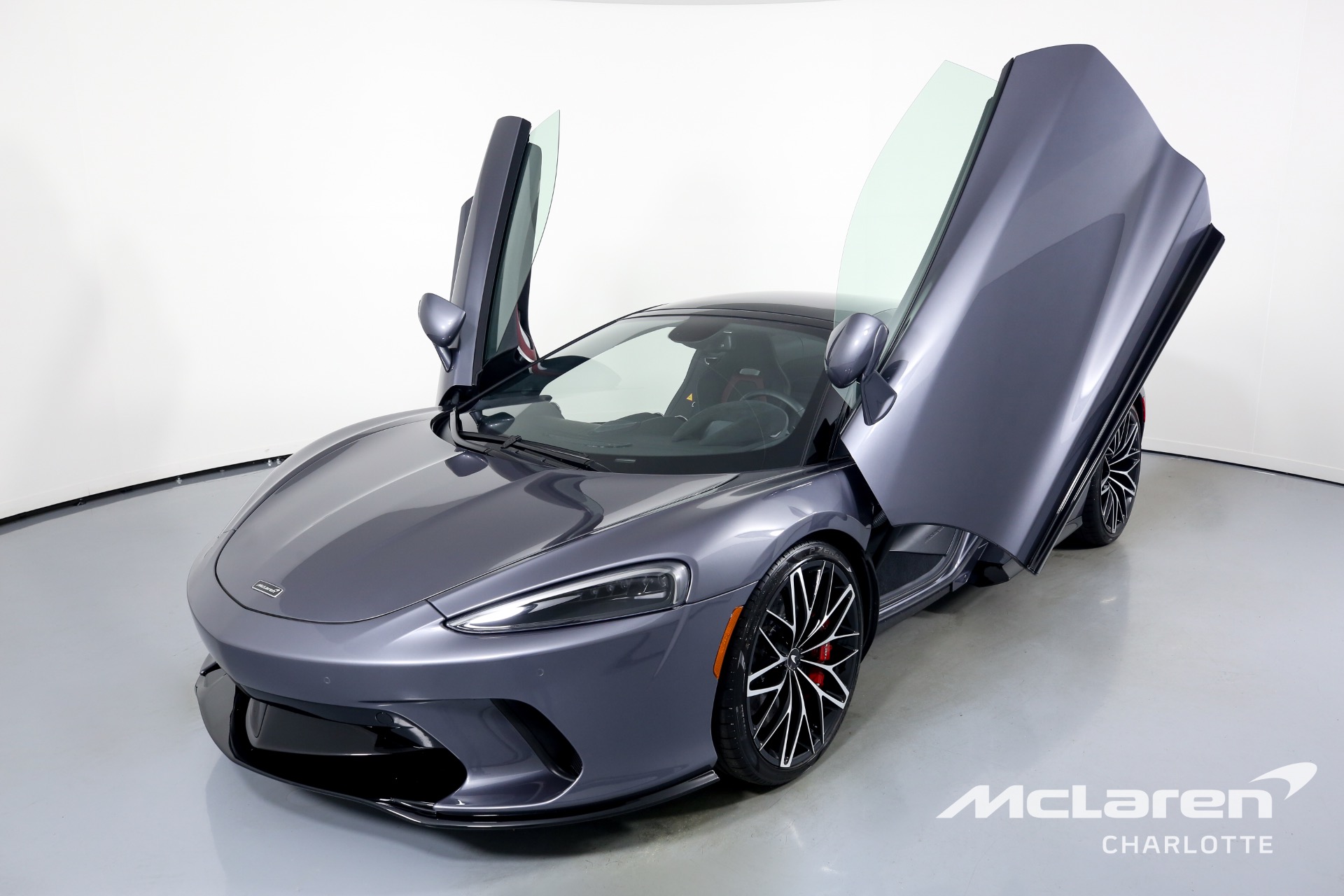 The gorgeous McLaren GT is a high-end sports car that blends performance and elegance for 2023. One of its best characteristics is potent horsepower, delivering thrilling acceleration. The cabin of the cozy, handcrafted vehicle is equipped with premium materials and cutting-edge technology, while the lightweight carbon fiber structure improves agility and efficiency. With a roomy baggage compartment for convenience, the McLaren GT's elegant form oozes elegance. Prospective purchasers may anticipate a seamless blend of daily drivability and track-ready performance, making it a flexible supercar. The 2023 McLaren GT is a real masterpiece in the field of high-performance vehicles, boasting cutting-edge technology and classic styling.
Overview of the 2023 McLaren GT
A powerful 4.0-liter V8 engine powers the 2023 McLaren GT, a stunning luxury sports car with over 600 horsepower and thrilling acceleration. Aerodynamics and recognizable McLaren aesthetic characteristics are combined in its exquisite form. The inside has high-end materials and cutting-edge technology for connectivity and comfort. Modern safety and driving assistance systems add an extra layer of security. The vehicle is functional and has a large trunk for luggage. The 2023 McLaren GT is an attractive option for individuals looking for the highest level of automotive workmanship and performance since prospective purchasers can anticipate a versatile supercar that combines track-ready performance with everyday use.
Engine and Performance, Mclaren GT 2023
A stunning 4.0-liter V8 engine, a pure engineering marvel, powers the 2023 McLaren GT. This engine's over 600 horsepower provides thrilling acceleration that accelerates the vehicle from 0 to 60 mph in less than 3.5 seconds. Its meticulously honed performance upgrades, such as its cutting-edge aerodynamics and finely-tuned suspension, guarantee superb handling and control on the track as well as the road. With its variety of driving settings, the McLaren GT enables users to customize their experience, from a classy and comfortable everyday commute to intense and dynamic track performance. The McLaren GT is a genuine supercar for any situation thanks to its combination of strength, agility, and adaptability.
Luxurious Interior
The 2023 McLaren GT boasts a luxurious interior that defines opulence. The cabin is crafted with premium materials and meticulous craftsmanship, creating an ambiance of pure luxury. High-quality leather covers the seats and door panels, while carbon fiber accents add a modern touch. The fine Alcantara upholstery adorns the dashboard, center console, and steering wheel for an extra level of sophistication and refinement.
The McLaren GT is equipped with a range of advanced infotainment and connectivity features that make every ride more enjoyable. The 7-inch infotainment system allows drivers to access music, navigation, and audio controls all in one place. Smartphone integration via Apple and Android Carplay lets users seamlessly connect their devices to the car's system, giving them access to their favorite apps while on the go.
Exquisite Design
The 2023 McLaren GT exhibits a beautiful design that skillfully combines form and function. In addition to enhancing performance, its streamlined and aerodynamic appearance conveys a classic beauty. The dihedral doors are a signature feature of the McLaren GT, as they swing outwards rather than up. This design element not only makes entering and exiting the vehicle much easier but also adds to its iconic look. The distinctive front grille is another hallmark of the marque, with its mesmerizingly intricate pattern and striking curves.
The 2023 McLaren GT has an impressive wheel design that is both sleek and aerodynamic. The 19-inch front and 20-inch rear wheels feature a unique spoke pattern that sets them apart from other models. It is also equipped with adaptive LED headlights, which adapt their intensity according to the driving condition, providing visibility in fog or rain. The side mirrors are designed to lower drag, while the sleek side lines create an aggressive yet elegant look. Additionally, the rear spoiler and diffuser add a hint of sportiness to this high-performance vehicle.
Advanced Technology
The 2023 McLaren GT is outfitted with a variety of cutting-edge technologies that improve convenience and safety. Modern drivers can feel more confident on the road because of features like adaptive cruise control, lane-keeping assistance, and blind-spot monitoring.
The infotainment system of the 2023 McLaren GT has been designed with proper care and attention to detail. Its high-resolution 10.25-inch touchscreen interface is intuitive and comfortable to use, while also providing access to real-time traffic updates and intuitive navigation features. The system can easily be integrated with a smartphone, allowing for hands-free calls, music streaming capability, and access to key apps like Google Maps or Waze. With these features combined, drivers can rely on flawless navigation for any journey.
Safety and Driver Assistance
With various cutting-edge features and technologies, the 2023 McLaren GT places a high priority on safety. To improve driver awareness and reduce accidents, its safety features include adaptive cruise control, a braking system, lane-keeping assistance, and blind-spot monitoring. The car's cutting-edge structure, which makes use of materials that are both lightweight and durable to ensure structural integrity, demonstrates McLaren's unwavering commitment to driver safety.
McLaren GT 2023's advanced emergency braking system can detect imminent collisions and alert the driver with both audible alarms and visual prompts. In addition, its collision avoidance feature can actively prevent vehicle-to-vehicle collisions by maintaining a safe driving distance between vehicles. As such, drivers can be sure of their safety when out on the road.
Maintenance and Ownership Costs of Mclaren GT
There are certain maintenance and upkeep cost considerations while owning a 2023 McLaren GT. Due to the specialized parts and servicing needs for this high-performance car, expected maintenance expenses are somewhat greater than typical. McLaren normally provides a limited warranty that lasts for a number of years or miles and offers protection against unanticipated repairs during that time. Owners should prepare for potentially high repair costs after the warranty expires. The cost of ownership should take into account future depreciation, insurance fees, and fuel expenditures. While the McLaren GT provides a driving experience like no other, potential buyers should plan for continuing maintenance and upkeep costs to guarantee a pleasurable and stress-free ownership experience.
Get The 2023 McLaren GT
The 2023 McLaren GT is a superior vehicle that delivers unparalleled driving performance. With its advanced engineering and high-tech features, the McLaren GT provides an unforgettable experience. Visit our dealership to view the brand-new 2023 McLaren GT and take advantage of the chance to purchase this exceptional luxury sports car. Whether you're looking for unbeatable performance or simply want a reliable vehicle for your daily commute, the 2023 McLaren GT is sure to exceed your expectations.