McLaren 675LT Charlotte
Experience the Raw Adrenaline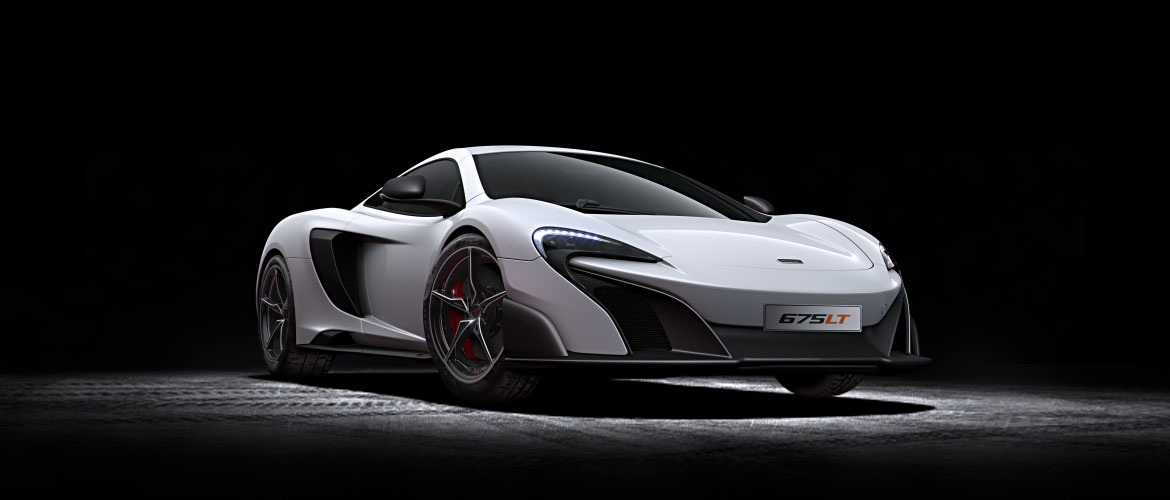 Overview
Experience the raw adrenaline of the 675LT, the lightest, most driver-focused, most exclusive series-production McLaren supercar ever built. The 1997 McLaren F1 GTR 'Longtail' was the ultimate evolution of the Le Mans-winning F1 GTR. Almost two decades on, the limited-edition 675LT follows its uncompromising ethos to create a visceral driving experience of unique intensity. More power, less weight, more precision – nothing has escaped our attention in the quest for perfection on both road and track.
Inspired by the McLaren F1 GTR
The 675LT features striking carbon fibre bodywork that increases downforce by an astonishing 40 percent over any other model in the Super Series. Performance is similarly striking. The re-engineered M838TL V8 twin-turbocharged engine produces 675PS (666bhp) and 700Nm (516lb ft) – increases of 25PS (25bhp) and 22Nm (16lb ft) – and the seven-speed dual-clutch gearbox is now twice as fast. The carbon fibre MonoCell provides the 675LT with an unrivalled combination of lightness, safety and stiffness, in common with all models in the McLaren Super Series. But an obsessive weight-saving strategy unlocks a further 100kg reduction compared with the 650S. From lightweight carbon fibre racing seats to a 1mm thinner windscreen, no opportunity to save weight has been overlooked. Ultra lightweight forged alloy wheels and Pirelli P-ZERO™ Trofeo R tyres, carbon ceramic brakes and an uprated suspension system that embraces technology from the McLaren P1™ also contribute to the radical specification.
Sublime Handling
The 675LT has been extensively optimised within the in-house wind tunnel at the McLaren Technology Centre, an astonishingly potent race-proven engine produces 675PS (666bhp) and 700Nm (516lb ft), and the suspension system has been engineered for even sharper responses. The process might be grounded in hard data, but the result is more engagement, more raw emotion and more mind-blowing performance. The McLaren 675LT propels driving enjoyment to an entirely new dimension.
Power, A Beautiful Thing
A twin-turbocharged V8 engine, super-fast dual-clutch gearbox, lightweight titanium exhaust. The beating heart for the 675LT gets the adrenaline pumping. The twin-turbocharged V8 engine has always been the most potent in its class. Now our engineers have unleashed an additional 25PS (25bhp) and 22Nm (16lb ft) for a thrilling 675PS (666bhp) and 700Nm (516lb ft), and a class-leading 549PS (541bhp) per tonne. Extraordinary precision defines the 675LT as much as extraordinary performance. Lightweight connecting rods, bespoke camshafts and a new electronic recirculation valve, all maximise engine response, while 300 percent stiffer engine mounts optimise the connection between driver and road surface.
Designed To Thrill
Not only does the exterior design of the 675LT create maximum visual impact, but it also helps unleash its staggering performance. The race-inspired front splitter is now 80 percent larger and the distinctive rear 'Longtail' Airbrake's aspect ratio increased by some 50 percent; both additions help increase downforce by an incredible 40 percent compared with the already efficient 650S. The unprecedented use of carbon fibre for a car in this class – including both new bumpers, and the entirely redesigned rear fenders and rear deck – also contributes to a substantial 100kg overall weight saving; a 1230kg dry weight makes the 675LT lighter than all class competitors, and gives an astonishing power-to-weight ratio of 549PS per tonne.
Enhanced Downforce, Extra Cooling
Re-engineering the in-house-developed M838TL engine to produce 675PS (666bhp) and 700Nm (516lb ft) necessarily demands an increased flow of cool air. As a result, the carbon fibre side intakes are significantly enlarged compared with 650S models, while all-new carbon fibre side skirts include an additional air intake to increase flow and contribute to the increased downforce generated by the all-new front splitter, rear deck, 'Longtail' Airbrake and diffuser.
Alcantara Interior
Long associated with an uncompromising motorsport ethos, lightweight Alcantara is offered as standard equipment throughout the interior. Durable, high-grip and incredibly tactile, Alcantara features across the cabin, including the racing seats, dashboard and steering wheel. Carbon fibre trim provides an ideal contrast to this high-tech upholstery, and features a satin-lacquered finish to reduce weight and generate maximum visual impact.