McLaren Specialty Servicing and Repairs in Charlotte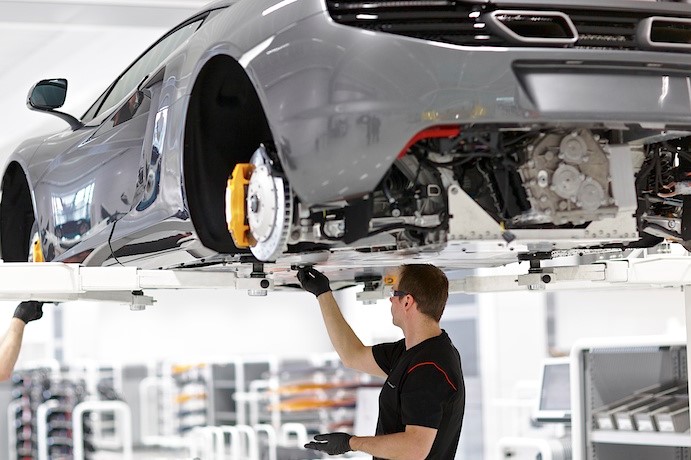 McLaren cars offer superior performance and an unparalleled driving experience, but even the highest-quality machines require a skilled touch for proper maintenance and repair. Locals in Charlotte, North Carolina, have access to the best automotive servicing and repair, thanks to McLaren Charlotte. With a passion for automotive excellence and a commitment to delivering unparalleled service, our skilled technicians are dedicated to keeping your sports car performing at its peak.
Whether you require routine maintenance, specialized repairs, or performance enhancements, our state-of-the-art facility and expert team are here to provide exceptional service tailored to your McLaren's unique needs. Trust us to provide the utmost care and attention to detail, ensuring that your McLaren remains a symbol of precision engineering and driving pleasure.
Oil Changes and Checking Air Filters
Maintaining a high-end sports car like a McLaren requires frequent oil changes and inspections of the air filter. McLaren Charlotte is aware of how critical it is to maintain clean engine oil to ensure that the engine functions in a manner that is both smooth and effective. We only use oil of the highest quality and filters developed exclusively for McLaren vehicles. In addition, we perform in-depth examinations of the engine's air filters to verify that they are clean and operating appropriately, which assists in elongating the vehicle's engine's lifespan.
Cooling System Maintenance
With McLaren cars known for their high-performance engines, it is essential and critical to keep the cooling system functioning correctly to prevent overheating and damage to the engine. The shop conducts routine maintenance checks on the cooling system, which involve flushing the radiator, checking the coolant level, and ensuring that the fans work effectively. Other coolant levels, including the brake, transmission, and power steering fluids, are also checked and balanced regularly.
Examine Radiator Efficiency and Engine Performance
The efficiency of a McLaren car's radiator is essential to keeping the engine cool and running smoothly. Our mechanics perform detailed examinations of the radiator to check for any blockages or leaks that can reduce its effectiveness. We have highly experienced technicians who can easily determine the engine's health and diagnose any problems accurately. Engine issues that need to be addressed on time include worn or damaged spark plugs, faulty sensors and fuel injectors, and air-flow issues. These issues directly affect the performance of the vehicle and sometimes result in the seizing of the engine.
Wheel Alignment and Tire Balancing
Ensure that the wheels of the sports car are perfectly aligned, the tires are balanced, and they're regularly rotated. It helps to ensure the vehicle's optimum performance and that the tires wear out evenly, extending their life. Some services for tires and wheels include patching, replacing, and rotating tires; balancing, checking, and adjusting the angles of any wheels for optimal traction; and keeping the McLaren intact on the road. You can easily get all these services for wheels and tires at our cool shop.
Brakes and Suspension Work
Because of the McLaren cars' high-performance potential and the sensitivity of their braking and suspension systems, it is absolutely necessary to have them tested and maintained on a frequent basis. Worn-out rotors and pads, an uneven distribution of brake force, improper suspension setup, and any loose pieces of the suspension or brakes are examples of problems that can occur. In addition to brakes, we also provide assistance in the area of clutch repair services, including repairs to flywheels and pressure plates, as well as clutch plates. Brakes and other safety features need to be checked on time for your safety on the road.
Tune-Ups
McLaren Charlotte provides extensive tune-up services to ensure that all McLaren vehicles are in excellent condition. Our crew guarantees that we are kept in immaculate condition in order to deliver the highest possible level of performance. This includes the engine, the transmission, and any and all other important components. Changes to the spark plugs, adjustments to the timing, and sensor checks are all possible during tune-ups. In addition to this, we inspect the exhaust system for any abnormalities.
Making Steering Components Responsive
The steering and its parts must be maintained in good condition to ensure safe driving. Our mechanics inspect the tie rod ends, ball joints, suspension arms, and other parts of the steering system for any kind of damage. If there are any issues, we intervene immediately to make sure that your car's response on the road is precise and reliable. The steering system, especially after the track day event, must be checked as it is put under great strain. This ensures that each McLaren car is equipped with correctly aligned and responsive steering components, which enhance the driving experience and provide safe maneuvering.
Additional Roadside Assistance
McLaren Charlotte offers additional roadside assistance, ensuring that clients receive support wherever they are. The roadside assistance covers towing services, changing flat tires, and transporting your vehicle to the nearest service center. The team of professionals is equipped with the necessary equipment and skills to ensure swift and efficient roadside assistance, ensuring clients' needs are met outside the workshop's confines. The 24/7 service is reliable and one call away.
Enjoy the Race Without Worrying About Wear and Tear
When it comes to your sports car, you need to know that it's in capable hands from start to finish. That is why the expert technicians at McLaren Charlotte are here, ready and waiting for any maintenance and servicing work that needs doing. From the most basic oil changes right through to suspension checks, you can trust us with your automotive needs – ensuring that your ride is running smoothly just when you need it most. Especially after the track hours, your McLaren needs a little tender loving care – and that is why our team is here to help.
Whether you're preparing for the next race day event or just want to enjoy the journey, we offer reliable and comprehensive services for all your motorsport and vehicle maintenance needs. Contact us immediately to learn more about our services.