Drive the McLaren Artura EV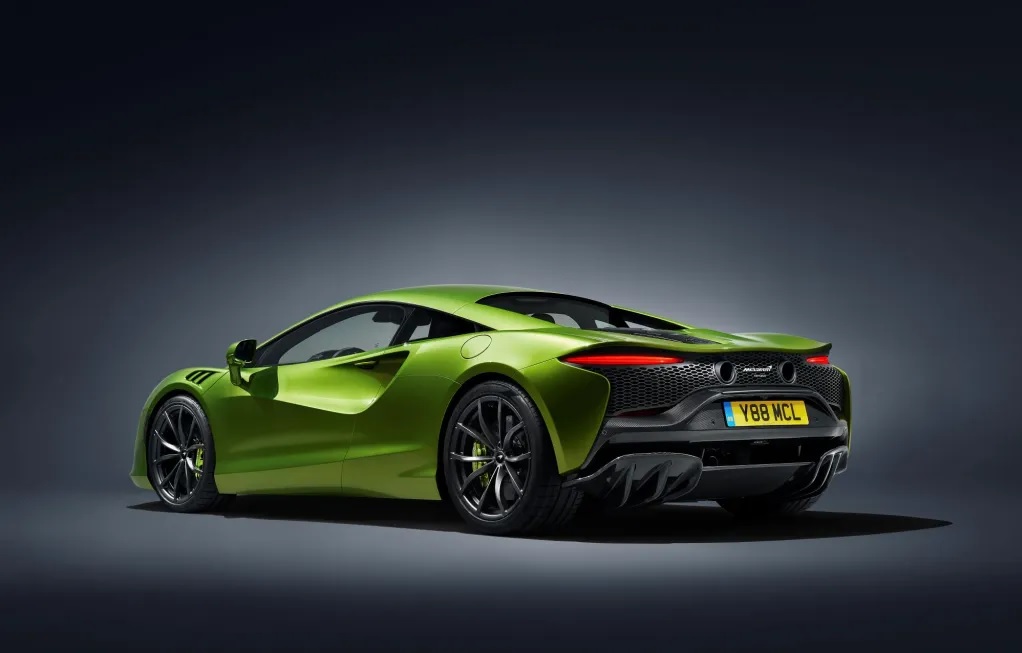 Experience the future of automotive excellence as you prepare to embark on an electrifying journey behind the wheel of the McLaren Artura EV for sale. This extraordinary driving experience awaits those who seek the perfect blend of cutting-edge technology, exhilarating performance, and unmatched craftsmanship. Discover the thrill of pushing boundaries and redefining what's possible in a high-performance electric vehicle. Unleash the power of innovation and immerse yourself in the world of art with us. With our dealership, you can opt for the best Artura like never before. Your wait is over, so get ready to ignite your senses and elevate your driving adventure to new heights. It's time to embrace the future and take the wheel of automotive excellence. Are you ready to feel the pulse of electric performance?
Performance Monster – Latest Hybrid Invention
Meet the McLaren Artura EV, an electric supercar that pushes innovation in automotive design to new heights. Powered by state-of-the-art Twin electrically actuated turbochargers and a Dry Sump system, the M630 120° V6 engine provides the beating heart of this remarkable machine. The Artura EV's power is unbounded, with a redline of an astounding 8,500 rpm. The addition of an Axial Flux motor and a 7.4 kWh Li-ion battery, cooled by a refrigerant, contribute to its extraordinary capabilities. This convergence of technology results in a staggering 680 PS (671 bhp) (500 kW) at 7,500 rpm and an equally impressive 720 Nm (531lb-ft) of torque at 2,250 rpm. You may reach a top speed of 205 miles per hour (330 kilometers per hour) with this work of art thanks to the 8-Speed + E-Reverse Seamless Shift Gearbox (SSG) that comes standard.
Chassis
With a Double Wishbone Front and Multi-link Rear suspension with Proactive Damping Control, the McLaren Artura EV chassis is expertly crafted to manage this incredible power. Electronically Locking Differential (E-Differential) is a fully integrated control and performance enhancer. The Artura EV rides on Pirelli P-ZEROTM and Pirelli P-ZEROTM Corsa tires equipped with Pirelli Cyber Tyre® technology, rolling on 19 x 8.5J" Front and 20 x 10.5J Rear wheels. When it comes to performance, the McLaren Artura EV is unrivaled; it provides a thrilling ride that stretches the limits of what's possible.
Sustainable Car
The McLaren Artura EV epitomizes sustainability with remarkable efficiency metrics that redefine eco-conscious driving. Boasting a minimal CO2 emission of 104g/km and an exceptional EU WLTP weighted combined fuel economy of 4.6 liters per 100 km or 61.5 MPG, this vehicle showcases an impressive balance between performance and responsible motoring. With an electric range of 31km (19 miles) and 39 MPGe in electricity mode according to USA EPA standards, the Artura EV ensures emissions-free driving and efficient energy usage. Its commitment to sustainability extends further with an all-electric range of 11 miles, offering a glimpse into the future of environmentally friendly transportation.
Unparalleled Interior Design and Technological Advancements
The cabin of the McLaren Artura EV is unmatched and flawlessly combines cutting-edge technology innovations. The Extended Nappa Leather upholstery in the four TechLux interiors, along with the sporty stitching and highlight accents, redefine technical luxury and style. The electro-hydraulic power-assisted steering, the forged aluminum brake calipers, and the frameless electrochromatic dimming rearview mirror all contribute to the car's exceptional driving experience. Dual-zone climate control, plenty of storage bins, full cabin width diffused air ventilation, and a dedication plaque that represents McLaren's drive to excellence all contribute to the interior's increased comfort. The Artura EV's interior is a perfect example of how innovation and luxury can coexist.
Entertain Your Journey Throughout
The McLaren Artura EV has cutting-edge infotainment technologies, such as an HD driver display and an 8″ touchscreen. You have access to a variety of entertainment alternatives thanks to the onboard memory, audio media player, FM radio, and DAB radio (SiriusXM for Federal). The vehicle supports Bluetooth phone connectivity, smartphone Apple CarPlayTM and Android AutoTM integration, USB connectivity, and iPod/iPhone integration. A 3D display and turn-by-turn directions are included in the navigation functions. User profiles, voice control, the McLaren Audio System, and over-the-air software updates all guarantee a seamless and modern driving experience.
Sporty Exterior With a Sleek Body
The McLaren Artura EV boasts a sporty and sleek exterior design with a lightweight carbon fiber architecture (MCLA) that includes features like a carbon fiber windscreen surround, brushed aluminum engine cover, superformed aluminum roof, doors, and more. The model features a single front windshield wiper with AquaBlade® technology and an electronic external door release. Exterior styling elements include a body-colored roof and contrails, a dark gray powder-coated rear deck and mesh, and silver exhaust and hot vee finishers, enhancing the car's dynamic appearance.
Lightning Features
Full LED headlights with automated leveling and follow-me-home capabilities are just two examples of the high-tech exterior lighting found on the McLaren Artura EV. The black housing surrounds trademark LED daytime running lights that activate automatically. To further improve visibility and safety, the vehicle is equipped with sequential LED indicators, a central high-mounted stop light (CHMSL), a dual-function LED rear fog/reverse light, and automatic LED rear and brake lights. The vehicle's wake-up procedure enhances the ambiance with a dash of contemporary class.
Driver Assistance Technology Makes Driving a Breeze
A full range of driver assistance systems that improve the driving experience and offer peace of mind are included with the McLaren Artura EV. To guarantee optimal traction and stability, the Anti-Lock Braking System (ABS), Traction Control (TC), and Variable Drift Control (VDC) collaborate. For customized driving characteristics, the Electronic Stability Control (ESC) has three modes: Standard, Dynamic, and Off.
Hill Hold Assist, Brake Disc Wipe Technology, Brake Assist Technology, and Brake Pre-Fill Technology are additional technologies that improve the safety of braking. The vehicle also has a Launch Control for thrilling beginnings, an Electronic Parking Brake with Auto Release, an Automatic Speed Limiter (AtSL), Cruise Control, brake pad wear sensors for both the front and rear, and a Range Calculator for easy trip planning. Every journey in the McLaren Artura EV is easy thanks to these driver-aid features, which prioritize safety and control.
Get Green With Mclaren Artura EV
In closing, the McLaren Artura EV offers a groundbreaking fusion of advanced technology, exhilarating performance, and exceptional craftsmanship, inviting you to redefine high-performance electric driving. With its sustainable efficiency, luxurious interior, and innovative features, the Artura EV represents a compelling glimpse into the future of automotive excellence. Embrace the wheel and join the electric revolution by contacting us and getting behind the wheel of the McLaren Artura EV, where innovation meets a greener experience and exhilarating driving.