2022 McLaren 720S Spider Performance for Sale in Charlotte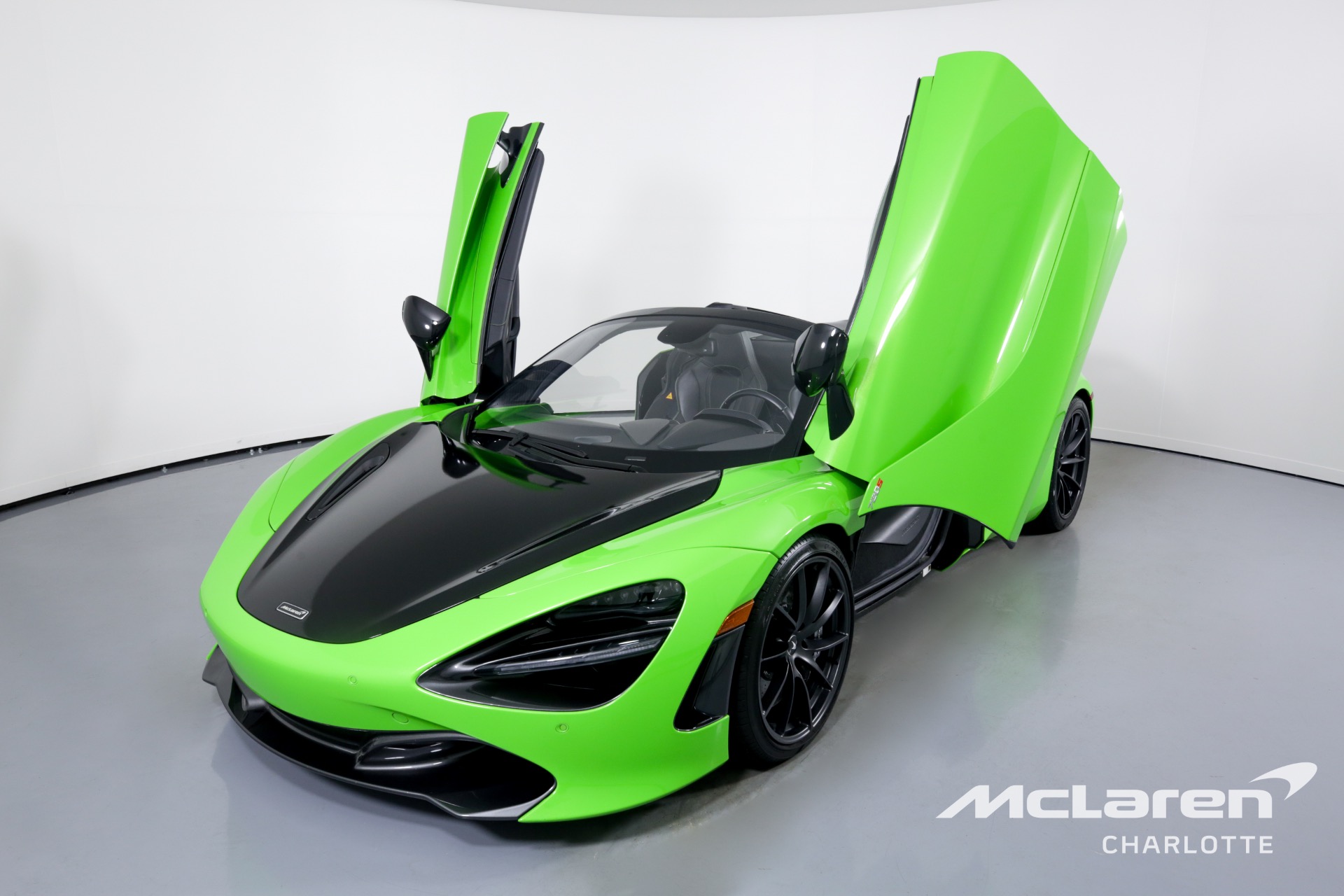 Are you looking for a thrilling and incredibly powerful performance car to drive around the Charlotte area? Then the 2022 McLaren 720S Spider might be just what you need. This RWD convertible sports car has proven itself to be both highly reliable and surprisingly fast and sporty. Its technology, style, safety equipment, and air suspension system all combine to provide superior cornering ability even at high speeds. Visit us at our dealership today to get this amazing performance car at the best affordable rates. Whether you are looking for a new piece or an oldie, we have it for all. Check out its features and amenities, making it cooler than any other in the league.
Performance Information for the McLaren 720S Spider
As you drive through the city in the McLaren 720S Spider, you can let the power of the car loose and experience the rush of the wind. This remarkable supercar is engineered to deliver exceptional performance, with a 4.0-liter twin-turbo V8 engine that delivers an impressive 710 horsepower and 568 lb-ft of torque.
This engine is only one of the many features that set it apart from other vehicles. It only takes the Spider 2.9 seconds to go from 0 to 97 kilometers per hour (60 miles per hour), and it only takes 7.9 seconds to reach 193 kilometers per hour (120 miles per hour). And for those who want to experience the pinnacle of driving, the automobile can reach a high speed of 341 kilometers per hour (212 miles per hour) when the roof is down. It doesn't matter if you're a racing fanatic or just a regular guy who likes cars; the McLaren 720S Spider will blow your mind, either.
Technologically Advanced Sports Car
The McLaren 720S Spider is packed with advanced technology and features including:
MSO (McLaren Special Operations) Edition
This is a bespoke version of the 720S Spider created by McLaren's in-house customization division. MSO offers a wide range of exterior and interior options, including unique vehicle colors, carbon fiber accents, and personalized embroidery.
High-Tech Safety Specs
The technology and safety features integrated into the 720S Spider are also top-notch. It has an air suspension system that provides improved stability at high speeds, making cornering effortless. The cabin is designed with modern amenities and a sleek interior with carbon black leather upholstery and heated seats that offer maximum comfort during long drives or quick sprints. Additionally, advanced braking systems and blind spot monitoring ensure optimal safety while on any road condition.
Durable and Visually Appealing
The McLaren 720S Spider is a highly durable and visually appealing sports car. Its aluminum monocoque construction helps ensure it can withstand the rigors of everyday driving, while its aerodynamic design provides an attractive look. The exterior color is finished with a beautiful metallic paint job that gives it a striking presence on the road.
Wheels and Rim Design
The wheels are a significant component of any sports car, and the McLaren 720S Spider Performance is no exception. This car comes with a set of stunningly designed rims that not only serve an aesthetic purpose but are also highly functional.
The 720S Spider's wheels are 19 inches in diameter in the front and 20 inches in diameter in the rear, creating a staggered look that enhances the car's stability and handling. The rims are constructed of forged aluminum, providing superior strength and durability while reducing the car's overall weight. These lightweight rims help to minimize unsprung weight, which improves handling and offers a smoother ride.
The rims come in either a standard silver finish or an optional gloss black finish that adds a touch of stealth to the overall design. Customers can also personalize their wheels with MSO, McLaren's customization division, allowing unique finishes and paintwork to match their style.
The Pirelli Tires
To complement McLaren's aerodynamic design, the 720S Spider comes equipped with Pirelli P Zero Corsa tires that offer excellent grip and traction for the most aggressive driving styles. The tires are specifically engineered to provide maximum performance and handling in dry conditions, perfect for thrilling rides.
Luxury Interior Amenities Found in the McLaren 720S Spider
Step inside the McLaren 720S Performance Spider, and you'll be transported to a world of luxury and comfort. The interior is meticulously designed to ensure every last detail has been considered. The ergonomic layout of the cabin means you'll never want to leave, while the high-end materials and attention to detail ensure that every trip is pure indulgence.
With features such as heated seats, leather upholstery, and a Bowers & Wilkins sound system, you'll feel like you're traveling in your five-star hotel on wheels. Whether it's a long journey or a short jaunt, the McLaren 720S Spider was built to impress at every turn.
Safety Ratings for the 2022 McLaren 720S Spider
The 2022 McLaren 720S Spider offers not only an exhilarating performance pack but also top-notch safety features to ensure optimal protection on the road. This supercar has received outstanding safety ratings, making it a smart investment for those seeking a thrilling yet safe driving experience.
McLaren 720S Spider Inspection
The McLaren 720S Spider has undergone rigorous testing and has been awarded high safety ratings by reputable agencies like National Highway Traffic Safety Administration and Insurance Institute for Highway Safety (IIHS).
Let's Get a Dream Car – McLaren Charlotte
The McLaren 720S Spider is the perfect choice for those looking for an exhilarating driving experience with superior safety and comfort. From its powerful engine to its luxurious amenities, this supercar offers everything you need in terms of performance, style, and reliability – visit our dealership today to find out more about this incredible vehicle and get a great buying experience. With these amazing features in mind, there's no doubt that the McLaren 720S Spider is one of the best cars on the market right now.